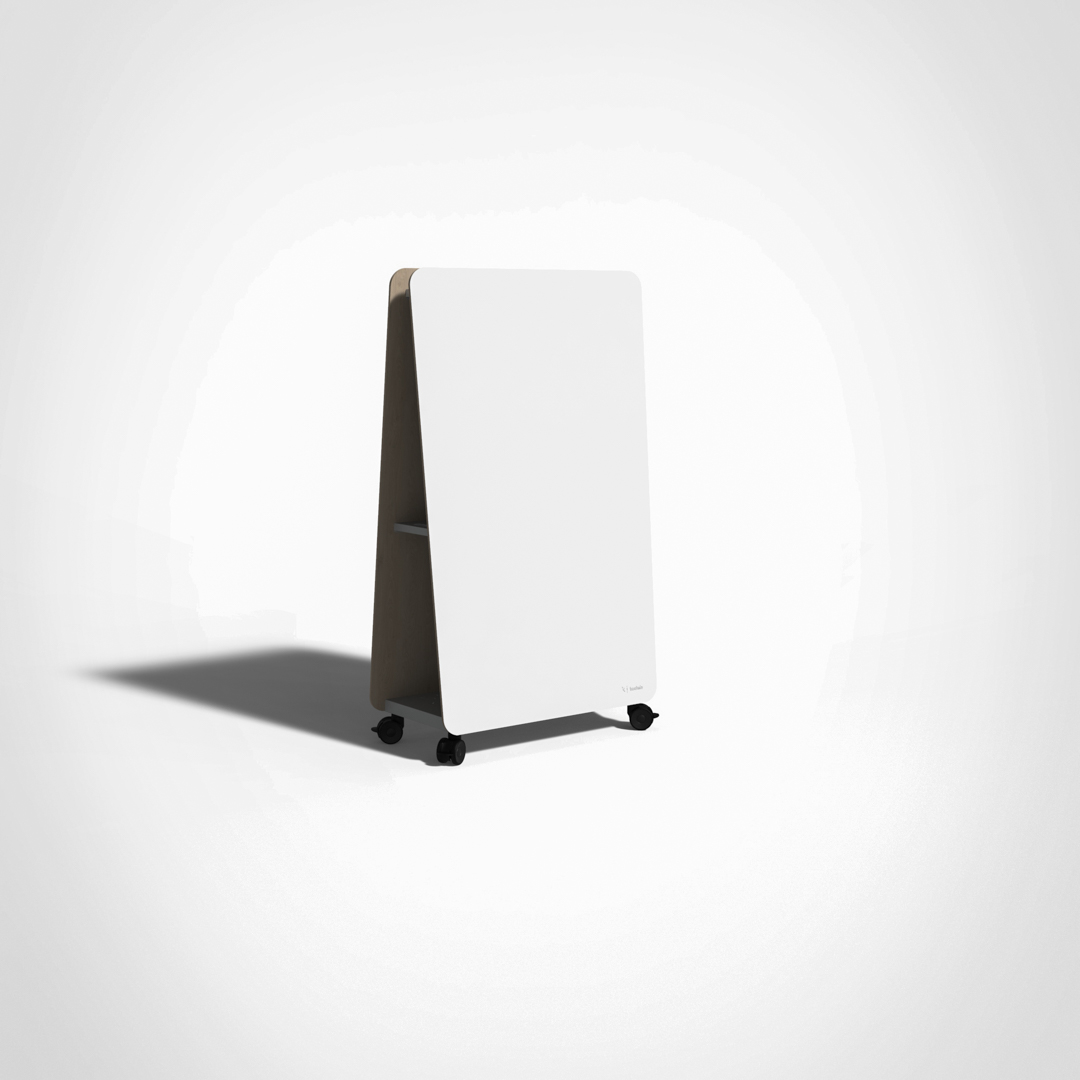 We think the Juha is perhaps the ultimate whiteboard. The design offers a smart and stylish solution for every possible use case.
The A-frame is mounted on four lockable castors, which eliminates any trip hazards. Made from lightweight plywood held together by steel, it's both very stable and easy to maneuver. The steel frame can be powder-coated in any of the Koskela colours for a playful look.
The Juha is multi-functional and also functions as a screening device when you have three or more. We created a longer and shorter side, so if you line up matching sides you create a curved wall, or you can line them up inversely to create a straight wall.
The whiteboard itself is a ceramic and magnetic composite, which is a special non-yellowing product that can be written on again and again with no trace of ghosting or stains. It's also frameless so there is no buildup of texta residue along the edges.
Inside we have added a steel shelf with a pullout laptop tray. It features an eye-catching pattern based on our K logo that is perforated to enable dust to pass through.
You can further increase the functionality of the Juha with magnetic accessories such as pen holders, display shelves, and a paper roll dispenser.
Versatile, durable and stylish – this is the only whiteboard your workplace will ever need.
Materials & Finishes

Powder-coated steel

Neutrals: Textured Matte Black, Satin White

Koskela Bright Colours: Fluoro Red, Fluoro Yellow, Fluoro Pink

Koskela Classic Colours: Oyster Grey, Terracotta, Petrol Green

Koskela Spring Colours: Aqua, Green, Orange, Yellow

Metallics: Brushed Copper, Brushed Brass, Gunmetal Steel

Interior & Shelf

Koskela-coloured powder-coat frame and two fixed shelves with handles

Perforated metal shelf based on our K logo

Timber finish interior
Features

Addition of roll-out laptop shelf in matching powder-coat colour

Paper roll dispenser

Magnetic accessories

Lockable castors